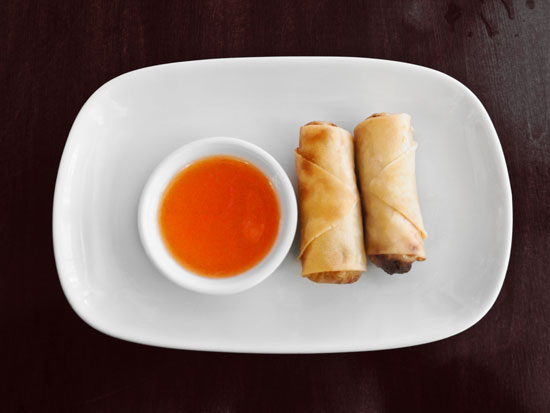 I watched Thai Market (here), now one of my favorite restaurants, grow since it first opened in 2007 on Amsterdam Avenue (between 107th and 108th). The neighborhood was fully ready for a restaurant with some flair and style, but easy enough for your daily, no-big-investment dining needs.
Thai Market is a breath of fresh air. Inside, the main wall is a large photo mural of food stalls in the streets in Bangkok, and there is more large scale street photography all over the place. Combine that with bright red, and you have the attempt to achieve a modern look. Admittedly, it's rather inconsistent, for some of the red comes in umbrellas, and so on. So, you shouldn't look too closely at the décor. But the feel is there: Thai Market is a contemporary, unpretentious, and un-costumy place.
The food is the same: let's call it contemporary New York Thai. Beautiful and pure. The vegetables are crisp and fresh, you see all the ingredients on your plate. They have an incredibly inexpensive lunch special for 8$. This sounds like it has to be fast food, but it is not. It's well-prepared 'real' food. I persuaded Jens to meet me at Thai Market for a late lunch. He had tiny Vegetable Spring Rolls with carrot sauce and Green Curry, and insists that he shall always have the same. My own, rather unspectacular choice usually is Kow Pad (fried rice with various vegetables, chicken, and so on). For me, Kow Pad is the kind of food that is basic in the best kind of way, like pasta: you can always eat it, and even though it's simple, there are a million things that can be better or worse about it. Thai Market's Kow Pads are perfect: light and lemony, entirely ungreasy. However, I've also had more sophisticated, and very delicious things in the past. Some of their appetizers are quite authentic, and worth trying. I particularly liked Goong cha nam pla, a beautifully prepared raw shrimp in lime juice.
Thai Market gets my best ranking, five stars: *****