European Green values have, in my particular case, very much to do with taste. Traditionally crafted produce simply tastes better. My moral lowness (or should I say, potential moral lowness, for I haven't yet figured out whether eating meat is actually morally bad or not) becomes particularly clear to me when I see my fellow Green-value-Manhattanites abdicate all meat. They actually mean it: they look at eating from their moral point of view.
From the culinary point of view, meat in Manhattan is excellent—and I mean it, genuinely excellent. Better than in most places in Europe. Meat here is something to lift your spirits. When I have little time, but a desire for luxury, I buy fillet steak. When I have more time, I buy the kind of beef that Italians cook in red wine, with lots of herbs, tomatoes, shallots, carrots and so on, and I happily eat it with Rigatoni.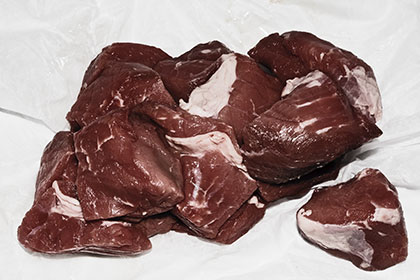 So where does this leave me with my attempt to blend in here? Here's my little theory: The artsy crowd that I hang out with is actually not representative. Vegetarians that they often are, they do not mirror the true nature of Manhattan. This place is, in its heart, a meat eating place, which is a truth visible (to me) when I walk down the street. Manhattan is about survival—at least for the likes of me—and survival doesn't have the patience for vegetarianism. Don't we need strength to survive the next heart-breaking phone call, when we realize that we won't be able to make it to the wedding of a close friend? Living in several places takes a toll. And meat, bad or not bad as eating it may be, steels your soul against the onslaughts of exhaustion.