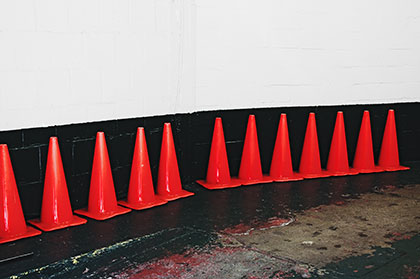 Maybe I have finally found the answer to the age-old party question: "So, what do you photograph then?"
I don't watch late night shows, but I love reading the transcripts on the web, and this snippet from David Letterman may help me solve my problem: "Here's some broadcasting ugliness. … Dan Rather, who used to host the 'Evening News' here at CBS, said this about Katie Couric, who is now hosting the 'CBS Evening News.' Dan Rather said … she is tarting up the news. Dan followed that comment by saying, 'Bring me another whiskey sour.'"
So, what do you photograph then?
1. "Things and objects" (this may not sound very catchy, but I'm told it's deeply philosophical).
2. "Traffic Cones" (obviously true, but at the same time not really the point of what I do).
3. "Well, I'm tarting up 'fine art' photography…" (which, given the state of things, sounds like a noble mission to me).