Remember: When you came to Manhattan before, as a tourist, you kind of enjoyed the odd meal at a diner, and you even went so far as to get some pommes frites, which they call french fries, when you were in a hurry. You thought that this was part of the local flavor, slightly adventurous, and it didn't matter, since very soon you were going to sit in front of your nice plate of ravioli again. You actually did get meals at so-called delicatessens, which serve ready made dishes, prepared in a less than delicious way.
But now you are here and suddenly things are serious: Is this how you are going to live? Emphatically No. Without as much as a conscious decision, none of these touristy treats seems even conceivable. You are going to search for real food.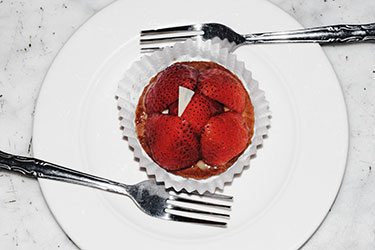 I shall spare you the frustrations, and immediately jump to a first find. A tiny café, somewhat French. Not, of course, French enough to spare you the usual offer of muffins, but French enough in other ways. The Ansonia café on 74th street, around the corner of Broadway, home of many Europeans, and regular meeting place with Jens and a companion of his (whom I shall introduce to you at a later point). Here they serve a truly amazing clafoutis au cerises (this is a cherry tarte which I used to bake—still in the lands of real butter and milk, where baking was actually an option—according to Lenôtre's recipe, learning from his book that it originated in the lovely planes of the Limousin). There are drawbacks to the location, such as a less than French-tasting café au lait. But that's not their fault, you tell yourself, they can't be expected to import French milk (which even *you* have not yet begun to do).
Coming up: Real Latte Macchiato