I haven't been in Munich for a long time, and up to now, I only recommended one restaurant on Jens' blog, a lovely lunch place called "Schumann's Tagesbar."
But now I have more. Today I met up with some friends at Sancho Panza, a tiny Spanish bar in Munich, the kind of place that is not on the web (sic! now it is…), and that lives from locals who are devoted customers. The name of the place, Sancho Panza, is a bit too predictable, as if the only thing one knew about Spain was Don Quixote. But otherwise, it is an absolute gem. The chef and owner, Mrs. Barrón, serves home-cooked Spanish tapas, little cakes and coffee, and she sells Spanish wine. There is also a small selection of especially good sweets, such as mazapanes de soto from Segura and chocolates from Alemany. But Sancho Panza's most charming feature is the home-made food. Everything looks as if it just came out of an upscale family kitchen, and tastes entirely genuine. Today, we ate some kind of eggplant cakes, which were simply masterpieces.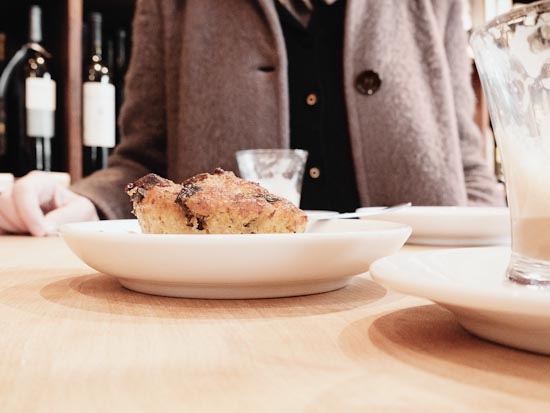 What is more, Mrs. Barrón continues a tradition dear to the heart of my friends. They tell stories of their parents, having the same kind of bar food when the place was still owned by Mrs. Barrón's predecessor, whom they all know by name, but whom I hesitate to name on the web. The small tapas bar has been a Bavarian incarnation of Spanish cuisine for decades. All the time, it was the kind of place where kids go with their parents, and where they would eventually take the person they hoped to marry. Not really cool enough for hanging out in the years in between, but part of the family, and a truly personal place. Sancho Panza gets my highest ranking, five stars *****.