The more I get to know it, the more I love Harlem. Last Sunday morning, I met up with friends for a little bike tour in Riverside Park. On coming back, we had breakfast at Pisticci, a small Italian restaurant on La Salle street, not far from the Broadway/125th Street subway stop. There were tables outside, with cheerful tablecloths, reminding me of the omnipresent 1950ies design back home in Italy.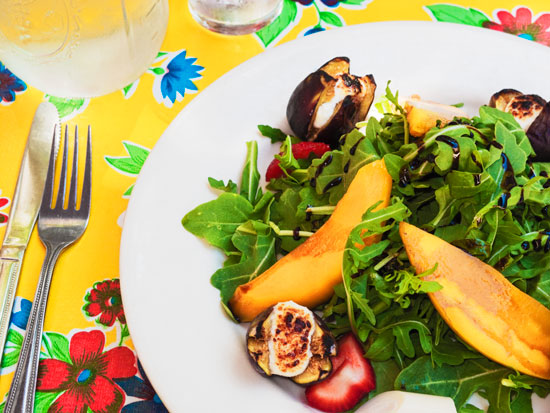 Pisticci is, without doubt, a little gem. Even though the food is Italian, it's the kind of restaurant you'll most often find in Paris. It feels as if it's run by a group of friends, young people who are cool and lovely at the some time. The offerings are targeted towards not-too-rich food lovers who eat out a lot and who don't care for long menus, rather eating what a trustworthy chef recommends that day. Apart from the daily specials, they have some excellent staples, for example, Penne Pisticci: penne with fresh tomato and cold bits of mozzarella on top. That's how you eat pasta in the Maremma, far away from the parmigiano of Nothern Italy, but not yet far enough in the South for cheese to entirely give way to olive oil. But it's not a restaurant with any real regional commitments. Rather, they seem committed to cooking with a mix of imagination and realism. Nothing too fancy, but not boring either. And always fresh, crisp, and genuinely well made.
Now back to my impressions last Sunday, early enough in the morning for the streets to be empty, and a seat in the shade to be really quite cool. If you ever thought that you couldn't be at ease in Manhattan – that it would all be exciting, but not as relaxing as sitting in a small café in Italy – you should reconsider. There was something distinctively out-of-town about the atmosphere on Pisticci's little terrace, but not of the suburbia kind. More of the distinguished beach café kind. And isn't that what summer should be like? It felt like a great luxury to be sitting there, rather than fighting for a table in some trendy weekend brunch place downtown. Pisticci gets my highest ranking, five stars *****.