"Dear Dr. Hare,
Marian just called to update my address and all. I'm intrigued that going to your office from my new place at Central Park West will now literally be a walk through the park – and a nice part of the park at that, with barely any tourists. I've confirmed our next appointment for Thursday [this] week.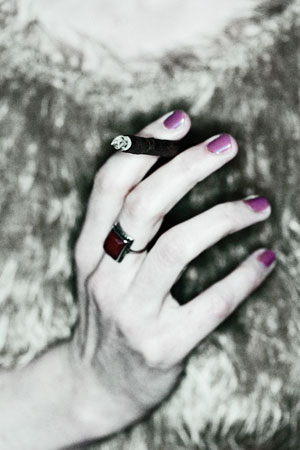 This is a time of change for me. If it weren't totally out of question, I'd love to invite you to see the new apartment. Doesn't the place one lives in say so much about one's personality? But I know, this is not appropriate (though I hate that word). I have to report that my arm may not fully heal, but it's alright, it's good enough already, and still getting better.
I'm back to work. Right now, I'm putting the final touches on my book, my most autobiographic yet, which I am quite excited about. And here's a confession: I am putting in anonymous quotes from our correspondence. Appropriate? No? Oh dear! I assume that many people are not going to understand it. But I see that as a plus. It means that you cannot really object. Or can you? I think it makes the book better, it helps the images speak.
Here's another question that I want to talk about with you. My blog, which you kind of initiated, has gained an astonishing number of readers. I'll admit that this makes me very happy. Especially since I've enthusiastically done everything wrong right from the start, thinking that, what the heck, what counts most is that *I* like it. So the idea is to share this platform with a few more like-minded people, creative minds, liberated from the confines of their daily grind in creative, academic, or corporate positions, and whatnot.
I'm much looking forward to our meeting next week, and to hearing what you think.
Take care, Jens"
"Jens,
it's good to hear that we shall finally speak in person. I am much disturbed by your laissez-faire-attitude regarding your arm. This is you – your body, your person! You ought to care. Please promise that you will do everything to get better.
You are right, I cannot come to your apartment. As concerns your book, it may be best if we both pretended that you never mentioned this plan. You shall have to do what you shall have to do as an artist, and I will try not to be self-conscious in our correspondence (or, for that matter, resentful: am I a source of creative material for you, or a person whose ideas you value? – but I shall put this aside; if I were to go into the question of whether you can use confidential therapeutic correspondence in your art, I don't know where this would lead us.)
On to more constructive matters. It sure is a very good plan to invite like-minded creatives to contribute to your blog. All these years, you kept telling me that photography simply is a harsh life, without a home, and without a stable circle of people to relate to. And I know that, as hard as this is, this feeds into your work in good ways. But still, perhaps your guest-writers can help you change this a little?
But more than anything, do not cancel again. It is important to come to your sessions and speak in person.
Sincerely,
Dr. Hare"