I have written about the issue of street photography and privacy rights two weeks ago and the e-mail I get on that piece ("The Postmodern Panhandler") keeps coming. There also has been quite a bit of discussion about the New York film permit requirement; many blogs that I read and like a lot have asked people to sign a petition against it in the last few days (e.g. Magnum Photos, Alec Soth, Amy Stein, Conscientious, just to name a few; Magnum only wants you to sign the petition if you actually agree with it…). Others have questioned Zoe Strauss' "moral" right to take photographs of strangers in the streets (there is an interesting exchange following her entry "Exploitative-Egocentric"). As I said last week: I believe an informed discussion about these issues requires at least some knowledge of the law. As a former lawyer I won't bother you with legal details here, but let me just outline the backdrop of what I think is at stake.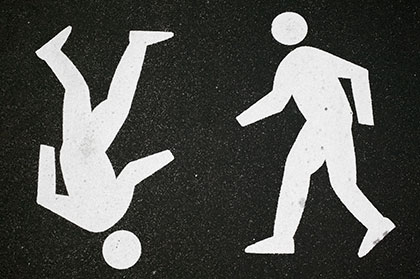 Photographing strangers in the streets and then displaying these images publicly (on the web, in an art gallery, etc.) can create a conflict between the freedom of expression of the photographer and the privacy and publicity rights ("the right to be left alone") of the person in the photograph. I'll give examples in a second, but let me first mention a few basic aspects: Legally, it is largely immaterial what the photographer "felt" or "thought" while taking the picture, or how viewers "read it", or what they "read into" the images. When rights of individuals (like the rights of the individual being photographed, of the photographer/artist, of the gallery owner, of the buyer of a print) collide, it is the law that is supposed to govern how the conflict is solved. And since the law is always a little late (because people are ingenious, because moral values shift, because technology changes, because awareness of a new problem grows slowly, because drafting a law takes time, etc.), not everything that is legal is also ethical. So let me very briefly look at those two areas:
(1) Legally this is a somewhat complex field. Just crying "first amendment" or calling the major of New York City names will not add much substance to the debate – *any* right, including freedom of expression, is limited by the rights of others. That, again, is the gist of the whole problem. On top of that, privacy and publicity rights and rights of artists vary from country to country, and sometimes (as in the United States) even from state to state. But there is a very consistent policy that commercially used images with discernible people in them *have to be model released in writing* (by a sober and informed person, one should add), and potentially compensation has to be paid before these images can be used. Now how about this: For the sake of argument, suppose a street photographer takes portraits of people living in the streets in a crime ridden area of Chicago's South Side. Suppose there is no written release, and no compensation was payed. Suppose further that the individual in the photo gives up drugs, gets back on her feet, moves to New York City, finds a job on Wall Street, and happens to walk into a gallery in Chelsea where her image is on display two years after it was taken. She sees her portrait and sues the photographer for a million dollars. (Of course she'd also sue the gallery because (a) they 'published' the image and, well, (b) because, as her lawyer would likely assume, that's where the money is.)
Had the portrait been used in an advertising campaign (without a signed release and without compensation), this case would be easy. The photographer and/or the advertising agency and/or the client would have to pay. How much is an open question (these cases usually are settled outside the courtroom), but the amount might very well be substantial. Well, what is different when the image is not used for advertising but displayed in a gallery and/or sold to an art collector? The main difference is that the lawyer of the photographer could argue that the image has artistic merit. But would that really make such a difference to the commercial side of the deal? I hate to say it, but in such a case I'd rather be the lawyer of the person in the photo than of the photographer.
(2) Ethically, one helpful cue can be taken from existing law: Western legal systems (I simply don't know how these things are seen outside the western hemisphere) consider informed consent a relevant factor when a private person is photographed and the photo is used in a commercial environment. Furthermore, the law considers it a rather general norm that human beings are never to be degraded to mere objects. A photo of a human being in a desperate situation, in a very bad neighborhood, drugged, beaten, uninformed about her rights, unaware of what happens with the photo that is taken of her, of who is going to see it, of how much money it may make for the photographer in the elusive gallery world (which, given these circumstances, could just as well be on another planet), hardly suggests informed consent, even if the individual did not reject her picture being taken. Of course the same is true if the person in the photo did not even realize that his or her photo was taken; given today's cameras and camera phones, this may rather be the rule than the exception.
If there were no legal guidelines whatsoever (but, as I tried to show, there are), the simple question that I personally would ask if I were to think about taking such photos is this one: Does the individual being photographed benefit in any way from the photo? Let's say another photographer found out that the healthcare system in a certain neighborhood in Chicago leaves the poor totally on their own, and that conditions in a particular hospital located in this neighborhood are horrible. Now, if that photographer did a project in the emergency room over a couple of weeks (I wouldn't expect her to get a permit, but let's just assume she would) and used those photos to raise money and start a program that specifically gives those that cannot afford to get treatment a chance to do so, that I think would seem like an ethically worthwhile project to all of us. The benefit for the individual in the photo would still be questionable though. And, keep in mind, even the use of an image by a no-profit organization requires a model release – it's just that the above situation makes the use of such images look "less bad", or maybe even "good".
In any case it seems quite apparent that this is a substantially different scenario compared to the kind of street photography that is created by an artist on the hunt, resulting in an image that is displayed in front of a generic web and/or art gallery audience: There is no indication whatsoever that the people in such photos benefit from that. The artist benefits from it, the gallery does. The idealist may argue that in some way "society" does. But the person in the photo does not.
As I said earlier – even if such photos are very good from a purely artistic viewpoint (and, in some cases, they most certainly are), I don't see this kind of photography going on for much longer without legal repercussions – ethical considerations notwithstanding. The current debate about film permit requirements for the streets of New York City is just one example that such repercussions can come in awkward shapes and sizes.