Here's the next bit of news from the food front for Jens' blog – that is, my culinary summer in Europe. Today, I feel inclined to share my likes and dislikes regarding Austrian classics.
There are by now a few Austrian chefs in Manhattan, and some cafés, for example the Café Sabarsky in the Neue Galerie. Not for me, I am sorry to say. Too posh, as the Brits would say, and that's unbearable if a place, in the end, is not genuine. Austrian cuisine, in Manhattan, is in one sense quite true to the realities of Austria: it has delusions of grandeur. The air of bygone times, and the unrealistic dream that, at the time, one would not have been the maid slaving away in a hot kitchen, but the lady who is served her delightful dinner on a shady terrace. I do like the story that Kaiser Franz Josef had a fresh "Guglhupf" (a very fragrant version of pound cake, with a characteristic round form) made for him every day. The lightness of it would evaporate a couple of hours later, and then the leftovers went to the servants.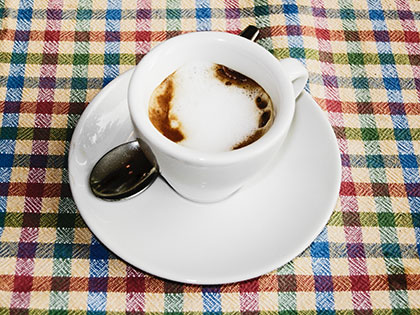 I had words of caution about traps set up for tourists in my earlier entries, and one might think that the Café Sacher in Vienna, and its little sister in Salzburg, should be first rank instances of this. Untrue! If you get anywhere close on your travels, absolutely go there and buy huge supplies. They are used to catering to an international clientele, and have the nicest little wooden boxes ever, perfect for world-wide shipping. The cakes (I recommend the classic, Sachertorte, but if you want a cake that will survive many weeks and still be fresh, take Linzer Torte) are amazingly well packaged, and arrive in perfect condition at every possible destination. If you want to impress your New York friends with an amazing dessert, buy a box with six individual mini Sacher tartes, about the most luxurious and sinfully rich chocolaty treat you can think of.
But you may also want a Wiener Schnitzel. For those who don't know the word (one of the few Austrian words that should be integrated into your international vocabulary), that's a kind of scaloppine – veal, very thin, very large, and breaded in a mix that is the best-kept secret of every Viennese chef. This dish is extremely popular and often well-prepared in Italy, where I had it the first couple of times. (Recall: the Veneto, Venice, Trieste, and so on, are, from the point of view of past delusions, part of Austria. Tempi passati, but still, that region of Italy is excellent cake country. Especially versions of Linzer Torte, a thin nutty tarte with rasperry jam, are the everyday dessert at many trattorie in the Veneto. ) Anyway, I am right now, of all places, in Berlin. And I wanted to note that Berlin-Austrian cooking nicely steers away from the pretensions of Manhattan-Austrian cooking. Thus, I'd like to send everyone to Lutter and Wegner, an Austrian restaurant at the Gendarmenmarkt (and less posh than the next door Borchert). Here, Wiener Schnitzel is served with the classics potato-cucumber salad, half-warm (the right temperature is part of the secret of it all), and it is sufficiently light for every Manhattanite to enjoy without remorse!
Coming Up: Monaco Di Baviera