Last week I had two appointments which, by pure coincidence, led me right next to both Lumas galleries in Berlin, near the Kurfürstendamm and in Mitte. I only knew Lumas through their website, so of course I had to have a closer look at both locations.
Many readers of this blog will have heard about Lumas. In a nutshell, the two founders, Stefanie Harig and Marc Ullrich, sell limited edition prints (editions normally range from 75 to 150) from what they call "up-and-coming to established photo artists" for an affordable price. It seems to me that, in a sense, what stock photography is to assignment in advertising, Lumas wants to be to established galleries in the art sphere. According to their website, and after only a few years in business, Lumas is currently selling more than a 1000 prints per month, through their website and through the growing network of Lumas galleries.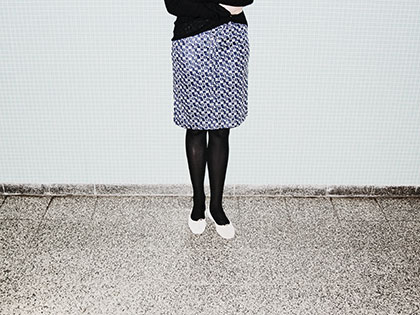 The concept looked very interesting to me. I know from many conversations particularly with new collectors of photography that they find the pompous demeanor of some established galleries rather off-putting. Lumas can certainly not be blamed for being overly pretentious. In fact the owners readily admit that they (while passionate about photography) are salespeople first and foremost (interestingly, Marc Ullrich is a cofounder of Strato, today one of the largest internet providers in Europe). The suffering artist is not their thing, and most of the Lumas collection comes across as upbeat in style. It is not surprising to me that websites like for example the omnipresent apartmenttherapy.com seem to be enthusiastic about Lumas: If you look for a print that matches your new colorful sofa, you'll certainly find it here.
And that was my problem when I saw the Lumas offering in the flesh: To me, both of their Berlin galleries felt more like the poster section of an Ikea store than a real gallery. This certainly does injustice to some of the images, but the presentation didn't spell 'value', and, on the other hand, it wasn't the kind of cool low-key display which makes the photography speak for itself. Of course, like in stock photography, I guess once you dig into the collection you'll probably manage to find a very strong photograph, and once you have put it into its destined environment, stripped off the surroundings it came from, it may look quite brilliant. But, at least for those who are not merely after a piece of interior design, it seems to require quite an effort to entirely detach the buying experience from the ownership of a piece of art. To me, it just felt very odd. The streamlined printing technique used for the Lumas prints (laser on photographic paper, mostly glossy) only adds to the impression that this is indeed an industrial product, with a hand-signed sticker from the artist on the back.
All this, of course, is just about different expectations. But, unlike stock photography that has taken a considerable bite out of the assignment market, I don't see Lumas substituting what a good art gallery is doing. And if it brings down some of the tackier ones… well, a dash of Darwinism certainly won't hurt.