Time to follow up with the second installment of my Dolomitian Strudel Di Mele Competition. Here comes the other winner: Rifugio Vallandro.
Rifugio Vallandro is perfect for those who need a break from serious hiking. But before you enjoy effortless walking along a lovely high-altitude path, you need to venture into lonely territory, following a street to "Prato Piazza." The last bit of the street is one-way, regulated by traffic lights, which, however, not everyone attends to. As a result, it is possible to encounter other cars in a rather narrow and steep, icy and snow-covered lane, as well as poor souls on foot, who didn't dare to drive up the street. The ones we met were so exhausted that their reactions to approaching cars were deplorably erratic. Anyway, it's advisable to take on the habits of Mediterranean lorry drivers: honk every time you see the sign "tornante," which indicates the next sharp turn of the street.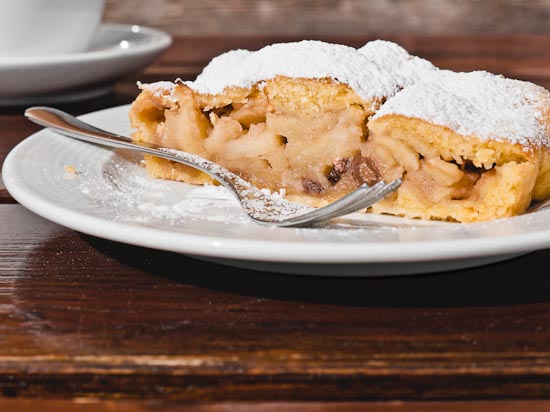 Once you've made it up to the parking lot, you're done with the adventurous part of the tour. For now you are almost alone (pretty much everybody is deterred by the many signs that indicate that the streets call for special equipment…). And you walk through an absolutely stunning high-altitude meadow. That's what "prato" means, meadow. And it's true. There's an atmosphere of loveliness, quiet, and ease. Even though the meadow was still covered with snow, one could almost sense how the flowers would come out only a few weeks from now.
Rifugio Vallandro is at the end of the meadow, and their strudel is a reflection of meadow-ness, translated into pastry. That is, it is light, fluffy, sweet, and sugary, and served by amazingly care-taking people who offer cushions and blankets, so that you can sit outside on the terrace, in spite of the winter temperatures. Five stars for the chef who was able to capture the spirit of the place to such perfection. *****