We visit The Fondazione Querini Stampalia, which houses one of the satellite shows to the Biennale, as much for the building and its donor as for Mona Hatoum's exhibition on two floors. (Hatoum's work is characteristically very strong, though the main exhibition does not depart from her conceptual staple. The Second Floor is most interesting with its quiet intervention of webbed glass-beads into cloth-covered chairs from the museum's permanent collection.)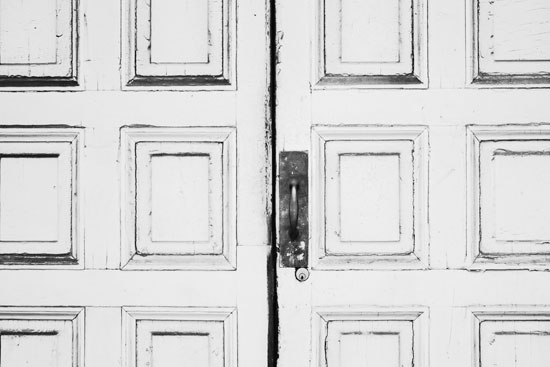 The building was turned over to the public in the late Nineteenth Century by Conte Giovanni Querini Stampalia, and yields up a collection of Baroque painting, a contemporary gallery and a library open to the public. Conte Giovanni laid it down that the library was to provide Venezian and travelling scholars each with a quiet place to read, warm in Winter. (Next to it, Shakespeare and Company of Paris is second-rate kitsch.)
The building has undergone serial renovations since the 1960s so that it now records a conversation between modernism and everything before it, call it 'antiquity.' (A visit to the building would be nicely paired with Michelangelo Antonioni's trilogy, L'Avventura, La Notte and L'Eclisse, which engage a comparable conversation, also often architecturally.) Notable is the elevator, a shaft of black marble, which cuts through highly decorative interior spaces. Notable too is the stone basement awash with water from the canal. It is nicely offset by a ship-like interior, with porthole windows.
In small ways, Venice seems to keep modernity at bay. (Indeed, in the following it is typical of the Italy I have seen.) Washing flaps against window sills, airconditioning is mercifully mild, people wash dishes with a plug in the sink, produce is seasonal and famously slow. These habits give the impression of a crafting of civilization over time, in concert with the elements.
Floods in the evenings, producing men in Wellington boots, appear as outgrowths of other modes of life.